Trucking

Accidents

Experience Fighting Against Insurance Companies
Cherry Hill Truck Accident Attorney
According to the most recent national crash data, large trucks were involved in over 3,700 fatal crashes, 88,000 injury crashes and 346,000 property damage only crashes in 2014. These numbers are expected to rise as we continue to see an increase in national vehicle miles traveled by large trucks.
Who is at fault in a Truck Accident?
Like all accidents, each large truck accident involves its own unique set of circumstances that will determine who is at fault. Unlike most passenger vehicle accidents, there are often more parties involved than just those present at the time of the accident. Many truck drivers are hired to drive a company truck, and therefor are not responsible for the maintenance of the vehicle – this liability can be passed onto the trucking company. Determining the key cause of negligence in these cases is more complicated and requires the deep knowledge and experience of a Cherry Hill accident lawyer. The lawyers at the Law Office of Andrew A. Ballerini are experts in the field and have a proven track record of producing results for individuals injured during accidents involving large trucks.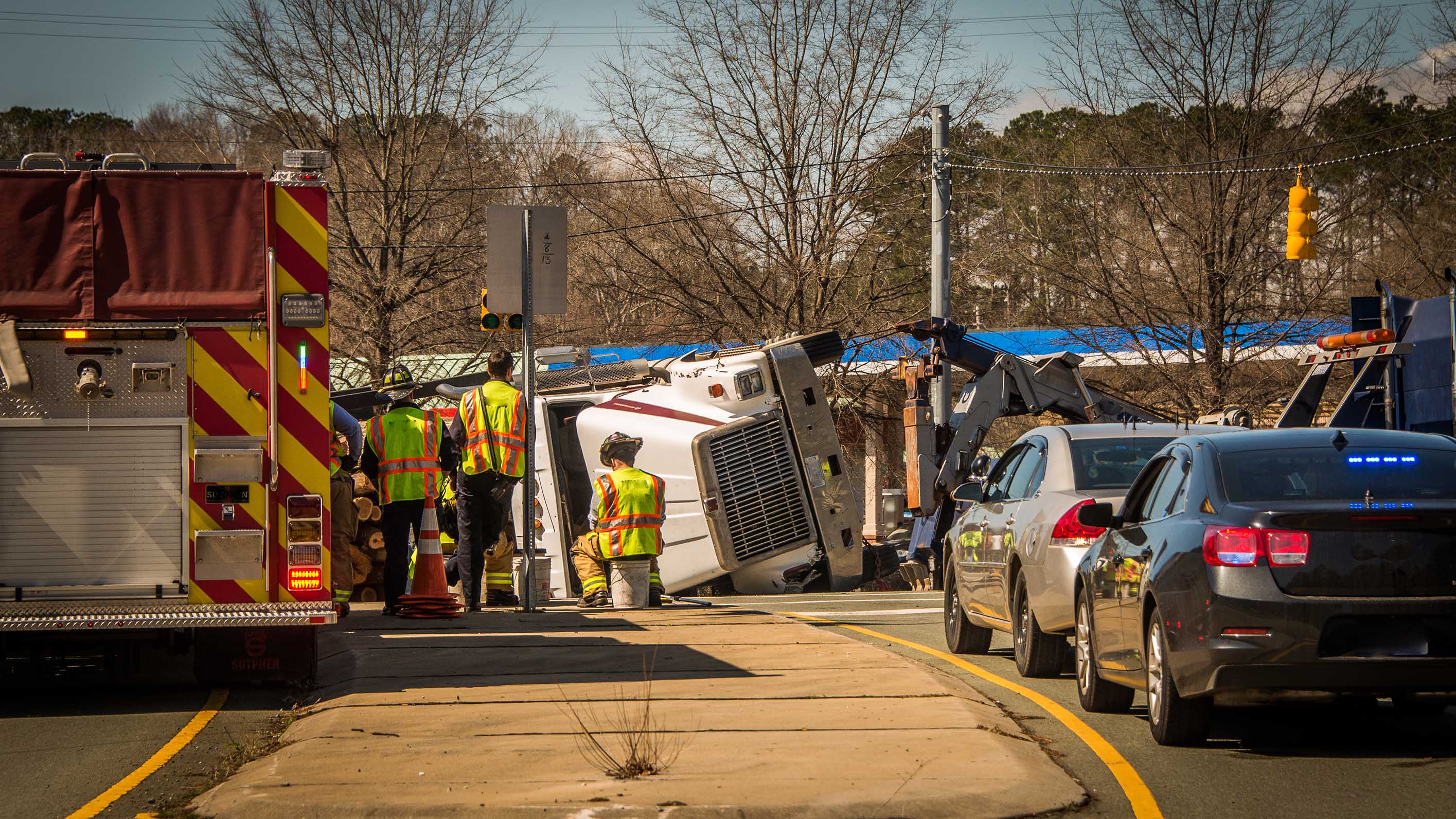 Causes of Truck Accidents
Because truck drivers are "on the clock" while driving our highways, they are under pressure to perform and meet delivery deadlines. The trucking companies are under similar pressure to spend the least amount of money possible on truck maintenance. This further complicates the already dangerous and difficult job of driving a large truck safely. Common causes of large truck accidents include:
Driver fatigue – Not all truck drivers follow the FMCSA's maximum drive time rules
Brake problems – Brake failures and other general maintenance negligence
Tailgating – Trucks require a longer stopping distance than passenger cars
Wide turns – Trucks have a difficult time navigating narrow streets and intersections
Rollovers – Trucks are prone to tipping over in adverse weather and driving conditions
Jack-knifing – Driver loses control of the trailer as it swings forward perpendicular to the cab
What is considered a Large Truck?
Truck classifications, ranging from class 1 through class 8 are used to identify the size and registration/licensing requirements of trucks that travel US roadways. Generally speaking, an accident with a large truck is any accident with a class 3 vehicle and up. Some examples of these types of vehicles include:
Walk-in Vans
Box Trucks
City Delivery Trucks
Heavy Duty Pickup Trucks
Bucket Trucks
Refuse / Garbage Trucks
Logging Trucks
Cement Trucks
City Transit Buses and School Buses
18 Wheelers, 5 Axle Tractor Trailers, and Sleeper Cabs
Accidents involving vehicles of this size are far more serious given the weight of the vehicles involved. Injury and property damage statistics show that accidents involving large trucks are far more costly than accidents only involving passenger cars. It is imperative that individuals involved in an accident with a large truck secure proper legal representation.
If you have been hurt in an accident with a large truck, call (856) 665-7140 to speak with a Cherry Hill accident attorney today.
Contact Cherry Hill Truck Accident Lawyer
If you were involved in a violent trucking accident, it's important to understand the differences between a truck accident and a car accident. It is obvious the impact from a collision between a semi-truck and a passenger car can cause you serious injuries. What is not obvious to most people is that the trucking industry is subject to a complicated set of state and federal laws that private drivers are not. If you've been seriously injured in trucking accident, contact an experienced lawyer at the Cherry Hill, New Jersey, Law Office of Andrew A. Ballerini to schedule a free initial consultation.
Given the likelihood for more serious injuries, the complexity of state and federal regulations, and higher coverage limits, insurance companies aggressively defend against trucking accident claims more than do auto accident claims. Almost immediately following an accident, the insurance company will send out a team of investigators and experts to investigate the accident. To protect your claim you need the help of one our experienced trucking accident attorneys.
Some common cases involving trucking accidents involve:
Commercial buses and semi-trucks
Inattentive and careless truck drivers
Defective and poorly maintained equipment
A noncompliant log book and weight limit
Overturned trucks
Debris falling from commercial trucks
Determining All the Parties at Fault
When filing a personal injury lawsuit, it is important to name all the possible defendants. Possible liable parties include the truck driver, employer, the lease company, truck company, and other driver. We will aim to recover all of your economic and noneconomic losses and we collect nothing until you receive monetary damages.
To find out more about filing a lawsuit for a trucking accident, contact the Law Office of Andrew A. Ballerini at 856-665-7140. Schedule a free initial consultation about your case with one of our lawyers.
Injuries Caused by Inattentive & Careless Truckers
Have you been involved in an accident with a commercial truck? Every year, thousands of innocent drivers suffer life-altering injuries in tractor trailer accidents along our nation's roadways. Although the truck company insurance adjustors want you to believe that you were partially at fault, don't take their word for it. The reality is that overworked, undertrained and inattentive truckers are responsible for a significant number of serious injuries and wrongful deaths every year, with individuals and families left to pick up the pieces.
Free consultation about your tractor trailer accident injury case. No attorney fees unless you collect money for your personal injury claim.
The personal injury lawyers of the Law Office of Andrew A. Ballerini in Cherry Hill, New Jersey, have more than 40 years of combined litigation experience in helping victims of tractor trailer accidents recover full money damages for their injuries and losses. We understand the rules of the Federal Motor Carrier Safety Administration (FMCSA), and we hold truck and freight company owners, managers and truck drivers liable for their negligence in a truck crash. We also know how hard a trucking company's insurance defense investigators and their lawyers work to change the facts, often by getting to the scene quickly to spin the evidence the way they want to present it. Often, their investigators arrive at the accident scene while the injury victim is still in the emergency room. We act quickly to preserve evidence and protect your rights. Contact us right away.
We handle injury and wrongful death lawsuits resulting from tractor trailer accidents caused by inattentive and careless truck drivers, including:
Speeding, reckless driving
Drunk driving
Swerving, lane crossovers, sideswipe accidents
Dangerous sudden stops, ride-under accidents
Improper freight tie-down
FMSCA violations, logbook violations, improper truck maintenance
Insufficient truck driver training
Unlicensed truck drivers
If you have been injured or have lost a loved one in a tractor trailer accident, we will come to the hospital or any place that is most convenient for you to discuss your case. Contact our offices for a free consultation right away
Contact Cherry Hill Truck Accident Attorney
Accidents involving vehicles of this size are far more serious given the weight of the vehicles involved. Injury and property damage statistics show that accidents involving large trucks are far more costly than accidents only involving passenger cars. It is imperative that individuals involved in an accident with a large truck secure proper legal representation. If you have been hurt in an accident with a large truck, call (856) 665-7140 to speak with a Cherry Hill truck accident attorney at theLaw Office of Andrew A. Ballerini
Call For a FREE Case Evaluation