Richard J.
Talbot
Aggressive & experienced New Jersey litigator.
New Jersey Nursing Home Abuse Attorney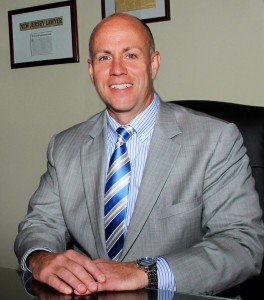 Rich Talbot is an aggressive and experienced litigator who ensures that his cases are always fully prepared for trial.
He is admitted to practice in two state courts and federal courts. He is a member of the bars of New Jersey and Pennsylvania and has been admitted to practice before the Supreme Court of the United States, as well as the United States District Court for the District of New Jersey. He is on the Board of Governors of the New Jersey Association for Justice. Rich is a co-chair of the New Jersey Association for Justice Nursing Home Negligence Committee. He is also a member of the Camden County Bar Association and The American Association for Justice Nursing Home Litigation Group.
Rich is now zealously pursuing medical malpractice and nursing home cases. He is careful to choose only the right cases.
Rich was accepted into the Million Dollar Advocates Forum and was certified by the Supreme Court of New Jersey as a Civil Trial Attorney. This certification is only given to those attorneys who establish the requisite skills, experience and knowledge through an application and testing process.
He has spoken on television to educate consumers about insurance claims and what is necessary to prove good, legitimate cases. Rich has been featured on a local cable television station as a guest speaker on Nursing Home Litigation. He is also a lecturer on the use of demonstrative evidence for the New Jersey Association for Justice. Rich has been a speaker at Nursing Home Litigation seminars presented by the New Jersey Association for Justice.
Rich has taken an aggressive stance in pursuing death claims where the victim suffered for a brief, but terrifying period of time. The same attitude is being utilized to demonstrate the horrific suffering of the elderly in nursing home matters.
Representative Cases
Trial Counsel in $1,800,000 recovery for fatal drowning
$1,000,000 – Nursing Home Neglect/Violations of Rights – Bedsore & Hip Fracture
$990,000 – Nursing Home and Assisted Living Neglect – Multiple Pressure Ulcers
$950,000 – Nursing Home Neglect/Violations of Rights – Failure to Timely Address Hypoglycemia (low blood sugar)
$950,000 – Nursing Home Neglect – Failure to Recognize and Act Upon Signs of Stroke
$900,000 – Slip and Fall – Reflex Sympathetic Dystrophy/Complex Regional Pain Syndrome Type 1 (RSD/CRPS 1). Handled RSD Issues-Co-Counsel with Mr. Ballerini
$850,000 – Nursing Home Neglect – Bedsores & Violations of Resident's Rights
$825,000 – Trucking Negligence – Pennsylvania Case – Multiple Surgeries and Injuries
$800,000 – Nursing Home Violations of Rights and Negligence – Bedsores/Pressure Injuries
$750,000 – Nursing Home Neglect During Rehab Admission – Infected Pressure Ulcer – Surgery
$700,000 recovery for product liability/unsafe product case
Recovered $665,000 settlement for multiple injuries caused by a car accident, resulting in cervical fusion
$600,000 – Nursing Home Violations of Rights and Negligence-Bedsores/Pressure Injuries
$570,000 in Settlements – Defective Product Claims – 1 1/2 Weeks of Trial
$550,000 – Nursing Home Neglect/Violation of NH Resident's Rights – Fractured Hip During Transfer – Bedsores
Obtained gross verdict of $540,000 for fatal fire on behalf of the victim of a fire who suffered 1-2 minutes of pain and suffering. (settled for $500,000 after apportionment of liability and after verdict)
$525,000.00 ER Medical Malpractice
$500,000.00 Pressure Ulcers – Hospital and Nursing Home Neglect
$500,000 Jury Verdict – Excess Over Remainder of 100K CSL Policy Against Allstate Insureds with Offer of Judgement for Policy – Herniated Discs
$490,000 – Truck Accident-Lumbar Fusion-Partial Disability
Recovered $462,500 (settlement occurred while trial was pending) in a motor vehicle accident case, where the victim underwent back surgery
$450,000 – (Ob/Gyn Medical Malpractice
$415,000 – (plus mediation fees) – Nursing Home Neglect-Pressure Ulcer
$400,000 – Nursing Home – Pressure Injuries
$400,000 – Pressure Ulcers – Hospital and Nursing Home Neglect
$400,000 – Bedsores-Nursing Home Rehab Center Neglect – Cancer Patient
$400,000 – Hotel fire death ($375,000 verdict plus $25,000 settlement)
Recovered $400,000 recovery in a slip and fall case on ice outside a store – neck and elbow injuries
$400,000 – Plus Judgment After Jury Verdict Against Care One Nursing Home-Bedsores/Pressure Ulcers-Catheter Injury-Violations of Rights and Negligence Proven
Recovered over $395,000 for disputed RSD
$382,500 – Nursing Home Violations of Rights and Nursing Home Negligence – Pressure Injuries
$350,000 – Medical Malpractice – Surgical Error in Cholecystectomy
$350,000 – Nursing Home Violations of Rights and Nursing Home Negligence – Elbow Pressure Injury
$350,000 – Nursing Home Negligence and Violations of Rights – Pressure Injury for Approximately 3 Months – Surgery
$350,000 – Medical Malpractice – Surgical Error in Cholecystectomy (gall bladder removal)
$350,000 – Judgment After Jury Verdict Against Nursing Home-Hyperglycemic (High-Blood Sugar) Event Improperly Monitored-Violations of Rights and Negligence Proven
$350,000 – Nursing Home Neglect and Violations of Rights – Pressure Ulcers and Fractured Femur
$350,000 – Nursing Home Negligence and Violations of Resident's Rights – Drop/Fall – Fractured Hip – Bedsore
$345,000 – Nursing Home Negligence and Violations of Resident's Rights – 2 Week Admission – Pressure Ulcers
$337,500 Assisted Living Facility Neglect – Pressure Injuries
$325,000 nursing home neglect – pressure ulcers
Recovered $310,000 before trial for severe leg fractures sustained in a slip and fall
$310,000 – Hospital Nursing Neglect – Bedsores
$300,000 – Nursing Home Neglect/Violation of NH Resident's Rights – Hypoglycemic Event/Medication Error
$300,000 – Nursing Home Neglect – Bedsores for about 40 days
$300,000 – Slip and Fall During Storm-Fractured Prosthetic Knee
$300,000 settlement during trial for motor vehicle/truck accident.
Recovered $300,000 before trial for slip and fall that occurred during storm and was caused by defective parking lot conditions
$300,000 settlement through mediation against a nursing home for pressure ulcers on both heels
Recovered $290,000 before trial for warehouse negligence in a case where the victim had prior injuries
$275,000 – Heel Pressure Injuries – Violations of Nursing Home Residents' Rights and Nursing Home Negligence
$275,000 – Heel Pressure Injuries – Rehab Admission-Nursing Home Violations of Rights and Nursing Home Negligence
$275,000 settlement-nuring home negligence – 15 day residency in nursing home with single pressure ulcer to heel that was not documented in nursing home's records
$270,000 nursing home violations of rights and neglect – deep tissue injury
$265,000 settlement recovered for a Nursing Home Neglect Case involving a fractured hip
$260,000 – Nursing Home Neglect – Fracture Prosthetic Hip/Hip – Pressure Ulcer
$250,000 – Nursing Home Violations of Rights and Negligence – Bedsore for Under 3 Months
$250,000 – Hospital Nursing Neglect – Pressure Ulcers
$250,000 – Policy Settlement, Despite Defense Use of Seatbelt Expert
$225,000 – Verdict ($100,000 Violation(s) of Rights and $125,000 Negligence) – Against Local Nursing Home with Attorneys' Fees and Costs to be Determined for Violation(s) of Rights – Failure to Timely Address Hyperglycemia (high blood sugar) – No Permanent Injury
$170,000 for fall on defective steps – Lisfranc injury/foot fractures
$115,000 settlement for negligent security – 3 hour abduction after a carjacking at a mall parking lot
Areas of Practice
Animal Bites — Plaintiff
Construction Law
Medical Malpractice
Motor Vehicle Accidents — Plaintiff
Nursing Home Injuries
Personal Injury — Plaintiff
Premises Liability — Plaintiff
Products Liability Law
Slip and Fall — Plaintiff
Wrongful Death — Plaintiff
Certification/Specialties:
Civil Trial Attorney, Supreme Court of New Jersey, 2002
Bar Admissions
Pennsylvania, 1994
New Jersey, 1993
U.S. District Court District of New Jersey, 1994
U.S. Supreme Court, 2004
Education
Rutgers School of Law – Camden, Camden, New Jersey, 1993
Juris Doctor
Rutgers University School of Business, Camden, New Jersey, 1990
Bachelor of Science
Major: Accounting
Board Certification
Certified as a Civil Trial Attorney by the Supreme Court of New Jersey, since 2002
Professional Associations and Memberships
Board of Governors, New Jersey Association for Justice
The American Association for Justice Nursing Home Litigation Group
Co-Chair of The Nursing Home Negligence Committee of the New Jersey Association for Justice
Camden County Bar Association
Cape May County Bar Association
Call For a FREE Case Evaluation